SAVE BIG ON PHONE CALLS!

No switching! Low International rates! FREE minutes and much more!
For a limit time get the DebtSmart Loan Calculator for FREE when you sign up!
Review by Alan E. Cooke

Alan E. Cooke, Manager and Debt-Free Living instructor

"An excellent and informative work. It was a great help to me in teaching others. It provides an easy-to-follow plan to use as resource material and also as a textbook in a small group teaching environment. It's concise, easy to understand and easily applied. The chapter presenting the debt-management model and time remaining tables allowed me to present this concept (payoff times) to a debt-free living class without having to confuse them with complicated math. The abundance of useful information make it (Credit Card and Debt Management) well worth the investment."

Coupon Codes
Enter your coupon code to see valid offers.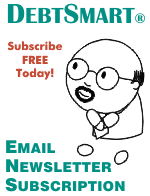 Subscribe FREE and you receive the 5-Year Loan Worksheet software FREE!
"The DebtSmart Email Newsletter is packed with cutting-edge strategies for solving credit problems. I highly recommend it."—Gerri Detweiler, author of The Ultimate Credit Handbook
"I received Debtsmart about a month ago and I love it!!! I learned so much. Great tips!!! Keep up the good work!"—Vanessa Keith, Amarillo, TX