SAVE BIG ON PHONE CALLS!

No switching! Low International rates! FREE minutes and much more!
For a limit time get the DebtSmart Loan Calculator for FREE when you sign up!
Book Information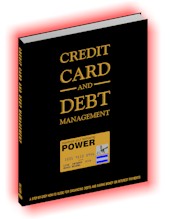 Credit Card and Debt Management has been reviewed and recommended by many notable sources such as The American Library Association, Bank Rate Monitor, Investor Press, Vanderbilt University, United Home Mortgage, the JumpStart Coalition: Financial Smarts for Students, and the Massachusetts Association of Student Financial Aid Administrators.

Additionally, this book is included on many best-selling lists, e.g., #1 at Barnes and Noble Online, #1-selling book at its distributor (Publishers Distribution Service) in June 1996, and more (see right).

Credit Card and Debt Management isn't, however, about credit repair. It's about learning to get the best deals when borrowing and how to pay back your debt most efficiently. It's a book for the thrifty loan consumer who wants to take control of their money, get out of debt, and use credit wisely.


BEST RANKINGS

#1 at Amazon.com's Top-200 Credit Repair List.

#1 at Amazon.com's keyword: credit card most popular.

#1 at Amazon.com's keyword: consumer credit most popular.

#1 at Barnesand Noble.com (Credit Card List)

#1 at PDS top-10 and Top 40 seller at Quality Books.