Getting Rid of Annual Fees
by Scott Bilker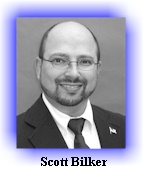 Hi Scott,
I was referred to you by Justin Harelik, bankruptcy columnist for BankRate. He had me read your book, which was well-organized and full of excellent and useful techniques. Unfortunately, I couldnít find an answer to my question. I know you are busy helping so many people, but if you have time to get back to me, that would be great.
Here's the situation:
I am not carrying debt of any kind. My credit is good. Currently, I have four credit cards with high limits and no balances. Two of them have annual fees: a United mileage card from Chase, and an American mileage card from Citibank.
The American card is what I use all the time. I'm based in LA, American's hub, so I fly American, and I use the American card exclusively. I've had it for five years or so. I use the other cards once a year because that maintains my relationships with the banks and gives me another 60K or so in available credit.
The United card from Chase is the one I've had the longest. My father co-signed it for me in 1990 when I was in high school, and I've had it since. It has a 28K limit. However, it has a $60 annual fee.
I'd like to get rid of the annual fee, so I tried calling them and asked them to waive it. I used your technique and said that I would cancel it if they did not, and they didn't budge.
Basically, I'm anticipating that at some point in the next five years, I'm going to buy a home. My credit will be important. But I don't know if spending the additional $60 per year is worth it.
What do you think? Should I keep the card and pay the $60 per year? Should I cancel the card completely because I don't technically need it? Or should I ask them to give me a new card with no annual fee, which would retain the 28K in available credit, but which would remove my 18-year relationship with that account?
Thanks for your time. I look forward to your response!
Sincerely,
E. in Los Angeles

E. in Los Angeles,
Thanks for writing!
Since you're using the American card to get the rewards, then you don't really need the Chase card. You're not getting any benefit from it. Therefore, I wouldn't pay the annual fee. However, since you've had it the longest, you will want to retain that relationship.
Give Chase a call and ask that they change the card to a non-rewards card. A change that will remove the annual fee and keep the account number the same. See if they will do that as long as it doesn't change the length of time you've been with Chase. Ask them whether or not it will be reported as a new card.
Please let me know what happens.
Best,
Scott
---
Scott,
I did just what you suggested and they agreed! I had thought that with a new number Iíd get a new account, but no--I got a new number and itís the same account Iíve had since the 90ís with the same limit--so my credit will be undisturbed, and Iíve saved $60. Thanks so much for your help.
Best,
E. in Los Angeles
---
E. in Los Angeles,
That's great! Glad to hear that it worked!
Scott