Having a bad credit is not a walk in the park but it's possible to deal with. Bad credit can make things harder and more difficult. It can hinder you from applying for loans and insurance companies can charge a higher interest.
Aside from financial challenges, it can be a professional challenge as well. Reputable companies usually do a background check on their prospect employees, and yes, it involves a credit check. Bad credit can follow you all your life unless you change your attitude and behavior.
Before you give up and accept the fact that you're going to have bad credit forever, read on the practical ways to deal with a bad credit score.
1. Review Credit Reports
Credit reports will give you an idea of the bad decisions you have made and a chance to create a plan to salvage your bad credit. You should properly review your credit reports as there might be some errors that you can dispute. You are entitled to a credit report once a year by law and you can get one through AnnualCreditReport.com. This is the first thing that you should do to determine the steps you will take to fixing your bad credit.
2. Consider Getting Approved for Bad Credit Loan
Stay calm because there's hope in getting approved for a loan despite having a bad credit. Check if your eligible for applying for a bad credit loan. A bad credit loan is a type of personal loan that is provided to people with weak credit or bad credit.
If you are eligible for this personal loan, make sure that you have all the options available and that you can decide on the best loan for you. It's not easy finding a loan with a bad credit as there's a higher interest rate. But being approved for a bad credit loan is the only way you can survive your poor credit standing.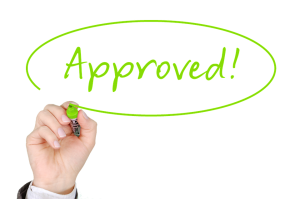 Source: Pixabay
3. Settle Past Due Accounts
The only way to move forward is to settle with the past and avoid creating the same mistakes again. Before you can move on, you should settle all past dues. Starting again with a clean slate is better than continuing with a dirty one. Moving forward, you should pay all of your bills in a timely manner, pay all of your debts, and avoid applying for more credit.
4. Dispute Credit Report Errors
 It's really important to review credit reports as stated earlier to see if there are errors. It's not common but not impossible. So, it's better to be careful and worth to check on. In your credit report, review your personal information and credit history. If there is anything unusual from your credit cards, debts, and purchases; report and highlight errors.
The next thing you'll need is a proof such as a bank statement. Create a letter about the dispute and include copies of your credit report (with the highlighted errors) and bank statement. Send the letter to a credit reporting agency and make a copy for yourself. You have the option of sending online or via mail. The response time for this is around 30 days after receipt of your letter. Contact the credit reporting agency for any other concerns and inquiries.
5. Do It Right
Moving forward, you would need a track of your income and expenses. You would also need a budget to make sure you're not spending more than what you earn. This will help you stay on the safe line of your finances. To create a budget, review your pay slip or tax returns to determine how much you are actually earning. It might help to create a spreadsheet on your income, loans, and expenses.
Conclusion
Overall, it's important to create a process wherein you won't lose control of your finances. It's easy to spend a lot knowing that you have a good credit but you might be surprised at the amount when your credit statement comes. The dangerous part is continuing the bad habit. Bouncing back from a bad credit score can take a long time but it's something that you should consider especially if you have a lot of plans for the future.